HOME
COMMANDER'S PROFILE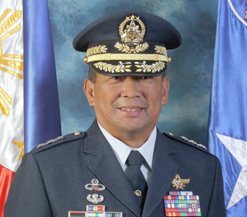 Lt Gen Lauro Catalino G Dela Cruz is the 32nd Commanding General of the Philippine Air Force.
Born in Pasay City, Metro Manila, Lt Gen dela Cruz joined the Air Force upon graduation from the Philippine Military Academy in 1980. He entered the Philippine Air Force Flying School (PAFFS) and graduated in 1981. Prior to his present designation at the helm of the Philippine Air Force, he distinguished himself in key positions with enormous responsibilities as pilot, flight instructor, training officer, management and operations officer.
He served as the Chief of Air Staff prior to his being chosen as the next top gun of the PAF. His leadership and marked professionalism were manifested in crucial assignments that included Wing Commander of the 205th Tactical Helicopter Wing, Deputy Wing Commander of the 205th Tactical Helicopter Wing and Deputy Wing Commander of the 710th Special Operations Wing.
Lt Gen Dela Cruz is recipient of 76 numerous awards and decorations foremost of which include the Presidential Citation Badge, Distinguished Service Star and the PAF Gold Wings.
In between the volume of primary and additional duties, he completed an impressive list of foreign and local schooling, foremost of which are the General Staff Course and the Joint Operation Planning Course in New Zealand. He earned his Master in Management - Public Administration from the Philippine Christian University in 2000 and Diploma in Arts from the Massey University, New Zealand in 2001.
Gen Dela Cruz is married to Ms. Lolita L Dela Cruz and they have a son, Lou Christopher L. Dela Cruz who is a third year Cadet (cow) at the Philippine Military Academy. He will retire on 30 April 2014.